03.11.2015
Share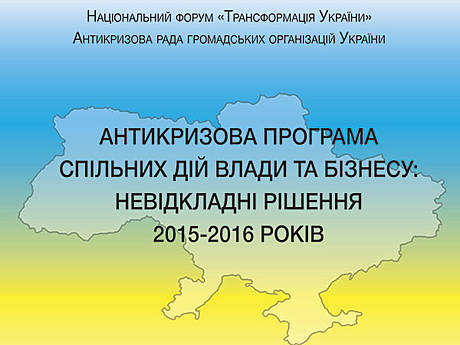 Almost a year ago, the anti-crisis council of non-governmental organizations of Ukraine was set up at the initiative of unions and business associations. Currently, it includes about 100 associations, which represent almost all of the real sectors of the Ukrainian economy, as well as expert and scientific communities. The anti-crisis council has worked out an integral vision of the business community - the anti-crisis program of joint actions of government and business.
The document is openly accessible, almost like online updates, revealing the major problems of economic development with the possible set of tools to address them. It has undergone several stages of discussion in various formats, it's been submitted for consideration by the leadership of the state, as well as in parliamentary and government circles. Discussions of the document are still under way.
Following the results of discussions on various platforms, including those held during extended sessions of the anti-crisis council of NGOs of Ukraine and the ULIE Board in Kirovograd (June 30) and Kharkiv (September 25) the present version of the document takes into account current changes in macroeconomic indicators and aims to initiate a responsible professional dialogue between the government and businesses as for urgent joint actions for 2015-2016 years. 
Anti-crisis program of joint actions of government and business: immediate decisions for 2015-2016